10 Unique Weather Gifts for Dads
Dads play the most prime roles in our lives. They love us unconditionally and provide us with the best lifestyle and education. We often could not express our love and thanks to our dads enough.

Most dads work hard to achieve goals for their kids. Father's day allows us to express our feelings and emotions for them. Gifts are the most convenient and suitable way to do this.

This weather enthusiast gift collection includes some premium quality weather gadgets used by National Weather Service. 
Why should you gift your dad weather gifts?
Presenting gifts to your loved ones on special occasions has been a traditional practice for ages. Dads are the pillars of families and play vital roles in the upbringing of kids and the financial growth of their families.
They spend their whole life without any rest for the betterment of the kids, and family and do not expect anything in return. All dads try to work faster and harder to provide quality lives for their kids.

Birthdays, anniversaries, Christmas, and Dad's day are some of the special events to express your heartfelt love and feelings for your dad. In this way, kids can pay tribute to their fathers' lifelong sacrifices and struggles for themselves.

You should have an idea about the favorite hobbies of your dad before buying a gift for him. For example, if he likes to grill, you should buy some hot salsa or bbq sauce for his next cookout party.  If he likes to garden, gift him some garden tools or seeds. If your dad enjoys swimming on the beach, gifts like sunglasses and swimsuits are good choices.
There are many gift ideas for dads, depending on their wants and desires like a great coffee machine, a facial hair remover kit, garage tools, and other similar stuff. If your dad likes music, you could track down an Amazon Echo to gift him for enjoying his favorite music in life. It would be a nice gift and he'd love it for sure.
When are the best times to gift your dad?
Usually, gifts are associated with special events like birthdays, anniversaries, Christmas, or Father's day gifts. But you can present a gift to your dad whenever you like.
What do you get your dad who loves the weather?
Finding gifts for weather enthusiasts is not an easy task for ordinary people. Our blog is here to help you find the best gadget for your dad. Below are some of the best weather-related gifts we could suggest.
For the dad who loves weather gadgets in the holiday season
For a weather geek dad who likes to participate in outdoor activities, he'll like to keep the latest weather conditions in mind. The weather gadgets help him predict any upcoming severe weather conditions. In this way, it helps to plan his holiday season more accurately. He'll love to organize a hassle-free trip for his family and friends.
Is a weather station a good gift for a weather enthusiast dad?
Yes, the weather station is a considerable and practical gift for dads who have a keen interest in the latest weather conditions.
10 Cool Father's Day Gift Ideas for Weather Geeks & Meteorologists
Here are the top 10 Father's day gifts for weather enthusiast dads. These different kinds of weather station gifts will perfectly match a dad's taste.
A perfect weather station loved by most weather enthusiasts gives unlimited access to severe weather, atmospheric pressure, and temperature. 
All products below include their respective links and photos. These links and photos will help you shop the recommended gifts with ease and best pricing.
1. La Crosse Technology V22-WRTHV2 Complete Personal Remote Monitoring Weather Stations
This La Crosse Technology V22-WRTHV2 is a remote monitoring weather station. It looks like a small digital table clock. The sleek-looking monitor features wind speed, rain, indoor and outdoor temperature and humidity data, daily high and low-temperature records, dynamic forecast icons, and a new Wi-Fi connected option.
The new WiFi technology allows you to see all of your sensor data in the new La Crosse View app. Every function has numerous measures to collect the data.
The Temperature and Humidity Control function includes the following features:
Indoor/Outdoor Temperature and Humidity

Outdoor Trend Indicators

Daily High/Low Outdoor Temperature Records

Feels-Like Dew Point

High and Low Records with Time Stamp
Dynamic Color Weather Forecast function includes the following features:
Seasonal Trees Change Every 3 Months
Wind Speed Data function includes the following features:
Current and Top Speed

History Records with Time Stamp
Rainfall Data function includes the following features:
Time Frame Selectable

History Records
The time-and-date function includes the following features:
12/24-Hour Setting

Displays Day of the Week, Month, Date & Year

Perpetual Calendar: Date, Month, & Full Day

This La Crosse weather instrument is the perfect gift for the dad who's into weather gadgets. It is handy and he'll love using this cool gift.
Additional Features:
Guided Settings Menu

Low Battery Indicator for Each Included Sensor

5 Settings LCD Brightness

Sensor Connection Indicator

WiFi Connection Indicator

Bonus Indoor Temperature Display

Brushed Metal Finish

Wall Hanging or Adjustable Kickstand for free standing
Pros:
Easy to understand with digital monitor and WiFi app on mobile phone

Compatible with both indoor and outdoor environment
Cons:
Limited WiFi connection speed
2. Midland WR400 Desktop Weather Radio
Charge your devices from the radio
With the USB output, you can charge your device when you connect to the radio.
Even if there is a power outage, you can still use mobile phones as you can recharge them on your radio.
You do not need to worry about the remaining power and use the emergency power backup with 4AA batteries.
You can monitor the weather any time you need.
24/7 Public Alert System
Get warned even if you are in the middle of sleep with its 85 dB alert siren.
You have some time to keep you and your loved ones safe in case of earthquakes, wildfires, flash floods, and more alerts.
You can stay relaxed at home without suffering from a lack of information.
Additional Features:
SAME Digital Technology

Program up to 25 different counties

Customized alerts

85 dB siren

Emergency power backup

Instant info from the National Weather Service

AM/FM radio with alarm buzzer

Color-coded alert level indicators
Pros:
Provides reliable weather updates

Digital screen for better understanding

Hand Crank portable AM/FM
Cons:
Sometimes gives an error with a new country and needs to be programmed again

A bit expensive but worth it!
3. Bey-Berk Lacquered Brass Oval Porthole Quartz Tide and Time Clocks, Thermometer, and Hygrometer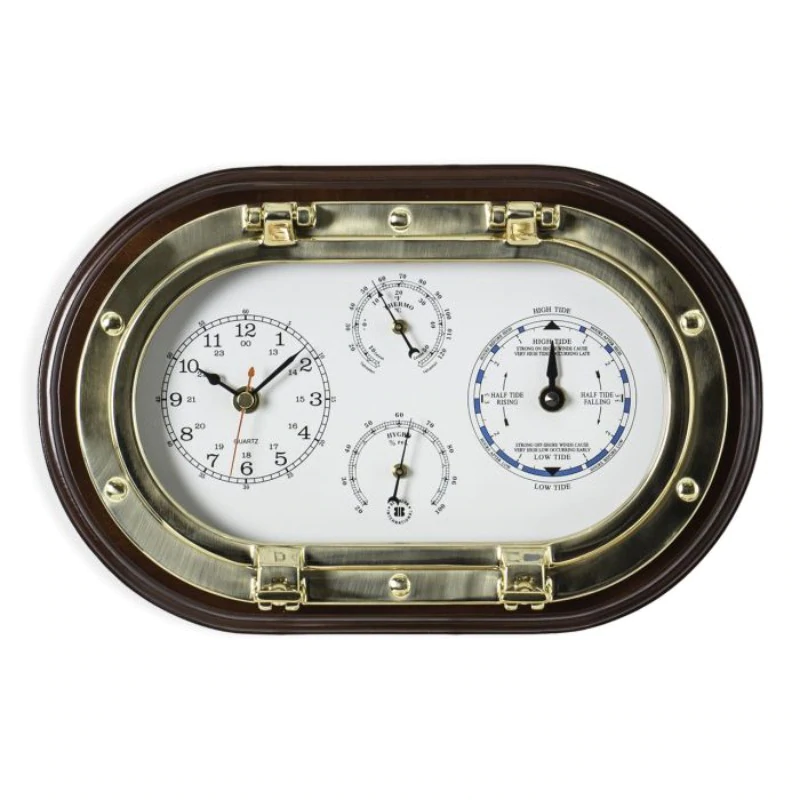 Bey-Berk Lacquered Brass Oval Porthole Quartz Clock is a gorgeous decor item. The clock adds style and elegance to your living room, guest bedroom, kitchen, or office. It features a tidal clock with a German thermometer, a hygrometer, and an alarm.
With a gentle patina to protect it from tarnish and moisture, this nautical timepiece will last for many years of use. It is a classic timepiece. In today's world, quartz clocks have proven their worth as reliable and accurate time machines.
Overall Functions
The clock is filled with useful information, including High-tide and low tide, 24-hour clock, °F/C temperature, barometric pressure, up to 10 years of daily tide information, and much more. 
These numbers will denote hours and minutes displayed between these numerals. The small "0" hour display is located just to the right of the noon position in a diamond shape. The soft dome for the thermometer is located on the left side of this glass bubble.
It displays both Fahrenheit and Celsius temperatures.
The hygrometer is located on the bottom when looking at the clock. It is also visible by seeing through its front glass bubble on a diagonal position opposite the "10" hour display. Combining style, function, and nautical appeal in this beautiful timepiece, you can use it everywhere like in the kitchen or on your yacht.
This antique-styled clock is a perfect gift for your dad.
Additional Features:
Mahogany wood
Quartz clock & tide clock
Thermometer
Hygrometer
1 "AA" battery (not included)
Pros:
Simple functions for easy understanding

Portable
Cons:
Difficult to comprehend for some people (analog clock)
4. Conant Collections Vermont Comfortmeter (Living Finish Brass)

The Conant Collections Vermont Comfortmeter looks great on the tabletop. It has an old-school vibe with a rain gauge monitor and a thin stand. It is designed to monitor both temperature and moisture levels. It also helps to understand the relationship between both of them.
Overall Functions
The thermometer displays Fahrenheit and Celsius on the left scale of the Comfortmeter, and the hygrometer shows the percentage of relative humidity on the right. The color graphic depicts the optimal range of temperature in yellow and humidity in blue. The ideal target range represents by the green intersection of these two ranges.
The easy-to-read 4" diameter dial is mounted on a solid brass stand for stability, making it great for monitoring greenhouses, sunrooms, or mildew problem areas. The Comfortmeter use in combination with a humidifier or de-humidifier to maximize its benefits and your comfort.
The solid brass housing of the Comfortmeter will age beautifully over time, eventually developing a lovely patina. The highest standards of craftsmanship have been employed to assure that this instrument will provide a lifetime of trouble-free service. It can be used in any environment where one wants monitor the temperature along with humidity.
It is one of the great gift ideas for life if your dad likes old-school weather stations.
Additional Features:
Tempered glass display

Dial with color graphics to display the comfort zone

Exclusive FR4 precision Japanese coil measures both Fahrenheit and Celsius

Hydrometer movement measures moisture levels

The free-standing, solid brass base that won't peel, flake, or rust; patinas with age

Glass crystal won't yellow or craze

Finish: Living Finish Brass
Pros:
Works best to monitor both temperature and moisture levels together

Easy calibration
Cons:
Not a portable device like to place in gardens, etc.
5. Kestrel 2500 Portable Weather Station

The Kestrel 2500 is a portable, digital weather meter. It builds upon the great features of the Kestrel 2000 and adds a pressure sensor; allowing it to predict fish and wildlife activities. The meter also indicates bad weather.
Basic Functions
With its easy-to-use digital pressure altimeter, you have the perfect instrument for any outdoor activity - get conditions in seconds right in the palm of your hand. In addition to predicting weather activity, barometric pressure also influences a bullet's trajectory, which is why the Kestrel 2500 weather meter is used by shooters and hunters when accuracy is important.
It takes 30 to 45 minutes for the average eye to adapt to darkness and maximize dark vision. Even a short burst of white, yellow, green, or blue light "bleaches out" the rod cell photoreceptors in the eye and causes night blindness until the entire adaptation process can take place again. Light in the red spectrum does not cause "bleaching out," preventing dark blindness and night vision fatigue.
Innovatively designed for stability and accuracy, it is situable to use in abrupt weather condition changes. Rugged and durable, all Kestrels are drop-tested, waterproof, and designed to float if dropped in water.
Additional Features:
Date & Time

Drop-Tested to MIL-STD-810G

High Contrast, Sunlight Readable Monochrome LCD Display

Minimum/Maximum/Average Reading

Pressure Sensor

Temperature Sensor

Waterproof to IP67 
It is one of the best gifts for your dad. He is going to love this cool gift from his kids. It is the best meter to use in hiking, rain, garden, or camping.
Pros:
Waterproof light weight handy meter

Useful for both indoor (house) and outdoor (garden, rain)
Cons:
Sensor becomes less responsive over time
6. La Crosse Technology S83301 NOAA Emergency Weather Radio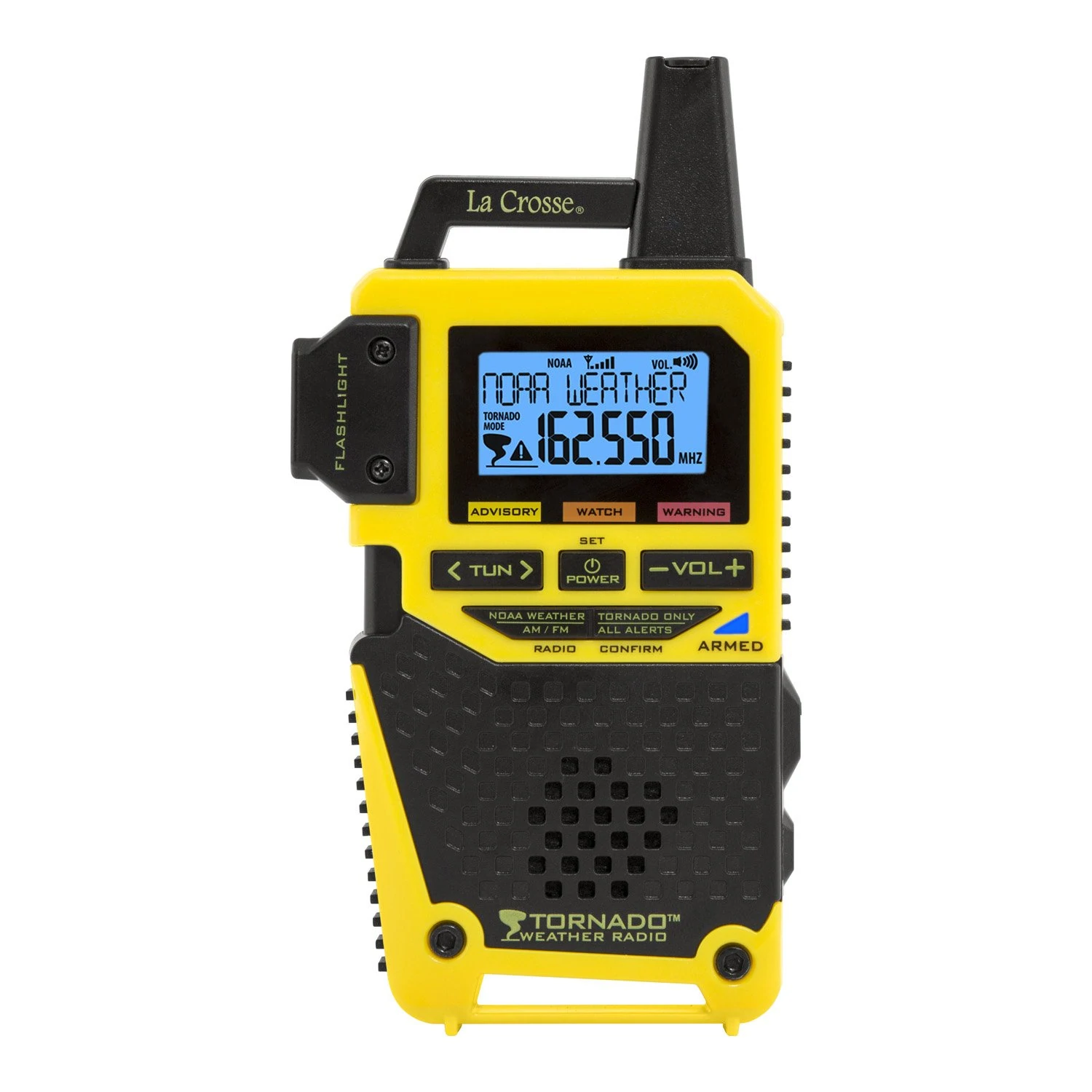 La Crosse Technology weather radio is a hot selling product in the whole world. It helps to track the emergency weather conditions. It is a portable device. The size and weight are convenient enough to place in a small bag. You can shop this amazing product direct from our site by using the above link.
From tornado warnings to flash flood alerts, this Emergency Weather Radio will keep you informed with instant updates from the NOAA. Combined with the option of AC power or fully functioning battery operation, telescopic antenna, hands-free lanyard, and built-in LED flashlight, it is perfect for mobile homes, garages, schools, beaches, gardens, or right at your bedside.
Radio Reception Bands
With both AM and FM reception, as well as access to all 7 NOAA channels, this device can be set up for live updates or put in standby alert-only mode. Stay safe and informed with your own NOAA Emergency Weather Radio from La Crosse Technology.
It is a great gift for fathers and it sure is going to become one of the favorite gifts for the dads.
Additional Features:
Easy One-touch Button to Receive Tornado Only Alerts

AC or Battery Powered Operation

Standby Alert Only Mode

Customized Alerts – Choose from over 70 Event Codes

Programmable FIPS Codes

USA IC Chip for High-Quality Digital Audio

6" Telescopic Antenna for Optimum Reception

FM Reception: 87.5 to 108MHz

AM Reception: 520 to 1710 kHz

Built-in 0.5 Watt Bright LED Flashlight

3.5mm Headphone Jack for Personal Listening

Convenient Blue LED Backlight for Easy Viewing in the Dark

LED Backlight will Flash Red During Alert Warnings

Separate Advisory, Watch, and Warning Lights

Low Battery Indicator
Pros:
Perfect for both in-house and outdoor use
Portable weight and handy size
It is perfect for an adventurous dad
Cons:
Needs proper care while using
7. Conant Collections 2nd Generation Jeffersonian Rain Gauges (Living Finish Brass)

Conant Collections 2nd Generation Jeffersonian Rain Gauge is the most popular product using only the highest quality materials and construction possible to ensure that this practice, as well as decorative instrument, will withstand the test of time for many years to come.
Overall Design
Our 2nd Generation Jeffersonian Rain Gauge features everything a solid steel deck mount and foundation rod, a stainless steel float that will never chip or leak, and a re-engineered gauge pointer for more precise measurements.
Inspired by Thomas Jefferson's affinity for invention, this unique device uses a float and lever design to measure up to 7" of rain in 2/10" increments. As rain fills the vial, the red ball rises, consequently causing the steel arm to climb up the scale.
The 2nd Generation Jeffersonian Rain Gauge is crafted from solid brass, glass, aluminum, and stainless steel.
Please remember to AVOID FREEZING! Be sure to bring your rain gauges indoors before air temperatures reach the freezing point. This will keep it safely free of ice, which can expand and break the vial.
It is a must-have weather instrument for all.
Product Highlights:
NEW powder-coated stainless steel float will never chip or leak!

NEW solid brass, steel, and aluminum construction for long-lasting service!

Timeless art-piece adds sophistication and purpose to outdoor spaces

Large easy-to-read numbers - visible from a distance

Can be easily calibrated for precision

Ground and deck mounts included

Finish: Living Finish Brass
Pros:
Durable, attractive finish

Won't peel, flake, or rust
Cons:
Requires proper space to install for accuracy
8. Weems & Plath 200 Black Gift Box Weems Stormglass

History of the Stormglass
The Weems Stormglass is a mysterious weather predictor that is sure to intrigue. Thought to have been invented by an alchemist for Italian sailors, stormglass instruments have been in use since the 1750s. Admiral Fitzroy, the famous British sailor, and meteorologist mounted an instrument similar to our stormglass on the mast of HMS Beagle as a storm warning instrument during his historic voyage with Darwin in the 1830s.
The premise of the Weems Stormglass is that changing weather affects the solubility of the mixture of chemicals in the sealed glass tube. Some believe that the changes in crystal structures have to do with the electromagnetic changes caused by weather and sun storms.
A sealed glass chamber holds the mysterious ingredients and is encapsulated in a beautifully crafted brass cylinder. The Weems Stormglass can be displayed freestanding or mounted to a boat bulkhead or wall.
Additional Features:
Predicts weather up to 48-hours in advance

Crystals precipitate in unique formations based on impending weather

The sealed glass chamber holds mysterious ingredients

Polished brass cylinder

Includes mounting accessories for freestanding or wall display (base, mounting accessory, finial, & self-tapping screw)

Packaged in a velvet-lined, black gift box

Avoid placement in extreme heat or direct sunlight

Comes with super soft gifts pack
Pros:
Predicts weather accurately (hot, cool, stormy)

Smartly fits in the bag

lifetime warranty
Cons:
Needs proper care and instructions to use
9. La Crosse Technology WT-3181PL-Q Indoor/Outdoor Wall Clock with Thermometer and Hygrometer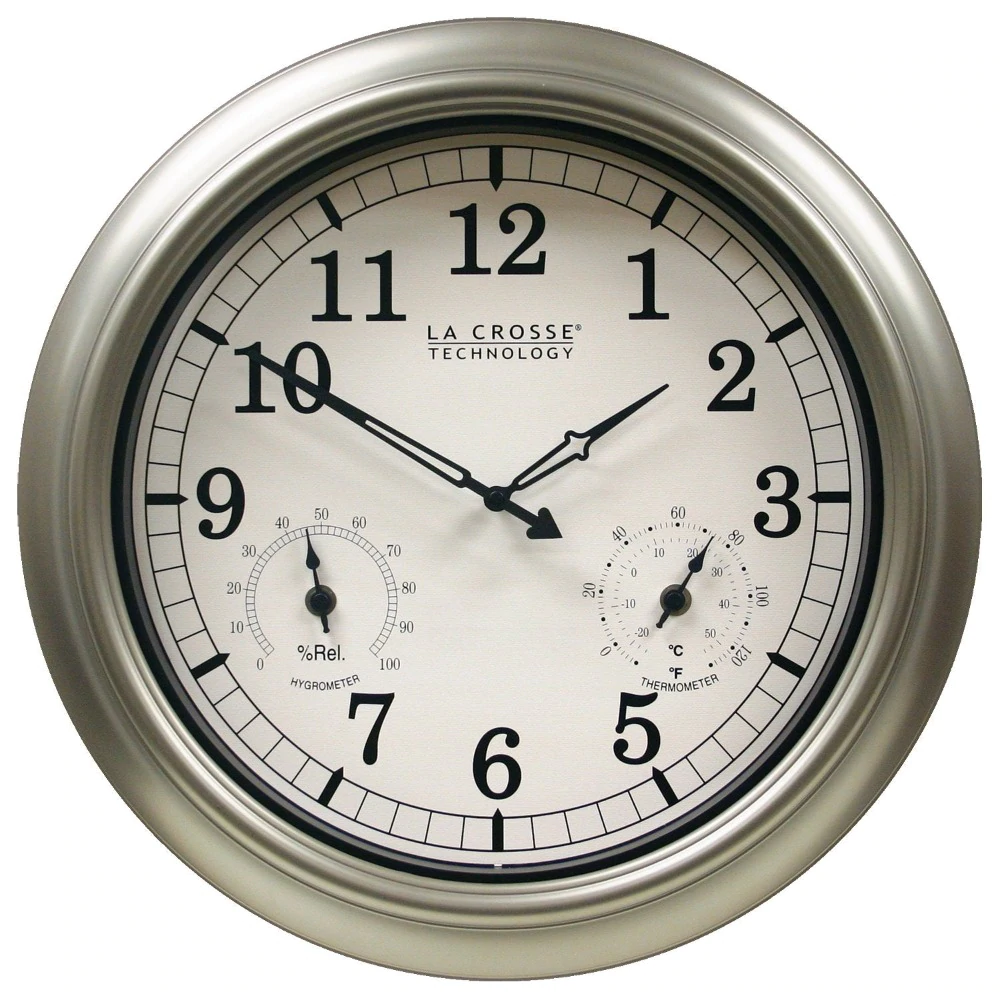 La Crosse Technology's Indoor/Outdoor Wall Clock is weather-resistant and tracks temperature and moisture levels. This clock features an 18" metallic finish frame that easily fits into any home or office decor. This analog clock does not include an idea of complicated designs or functionalities. It does not require any expert skill to use this wind and weather-resistant kit.
It is one of the best gifts for elder dads who find it difficult to understand the latest digital technologies. It will be a great Christmas gift for dads from kids.
Features:
Analog temp (°F/°C)

Analog hygrometer (%RH)

wind resistant

Manual set time

Quartz time movement
Pros:
Water-resistant
analog clock
Smartly fits in the bag
Cons:
Requires space to hang properly

Maybe hard to read for those who's used to digital displays
10. Boltek LD-250 Mobile Detection Kit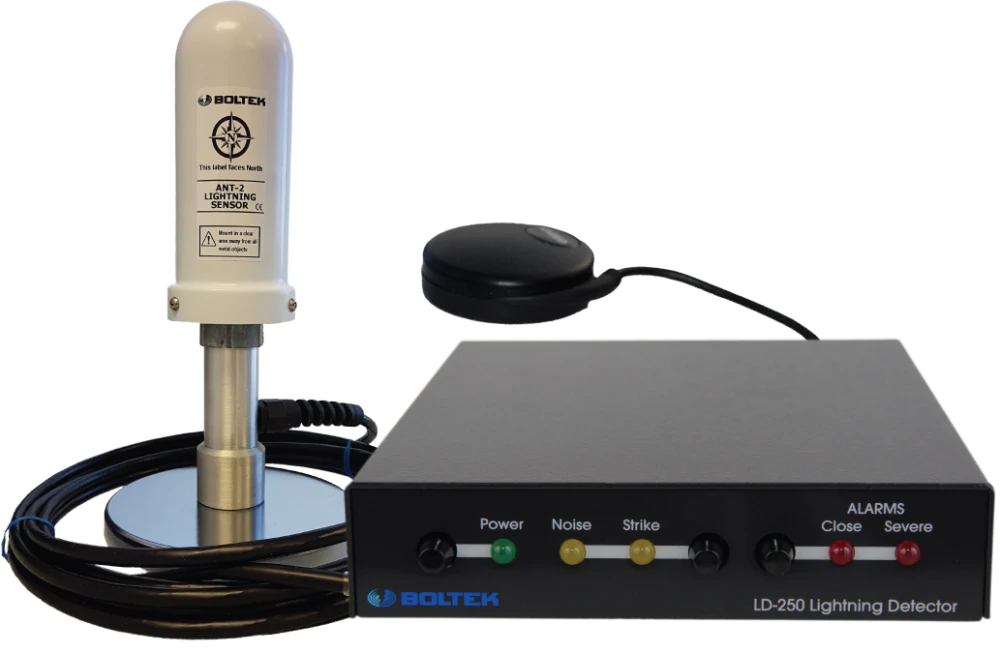 The LDGPS receiver will adjust the heading while driving so that strikes are still plotted correctly when the vehicle is not facing north.
For use on a boat, the LDCMP (electronic compass) is required so that the heading does not change when moving laterally.
It is one of the best gifts if your dad feels comfortable using computers and laptops. He can use this inside the house or sitting in the garden.
Additional Features:
Long Range detection up to 300 miles (480km) away

Designed for mobile use in a moving vehicle or boat with the GPS or Compass connected

Tracks storm movement

User set alarms for close storm or severe storm alerts

Detects lightning when not connected to a PC or Laptop

Portable and can be connected to Desktop or Laptop USB or Serial COM port

No online or recurring charges
Pros:
Display software is compatible with all current Windows operating systems

Quick and easy setup
Cons:
Needs proper space to set up and operate

Not recommended for open spaces like gardens etc
Final Thoughts
Our all-recommended gifts for your dad are the best in quality and functionality.
They are the most thought-provoking products a weather enthusiast dad can expect to watch from his or her loved ones.
Hope this blog has helped you find the best weather-related gifts for your dad to make Father's Day more special for him.  All of our recommended gifts for your dad are the best in quality and functionality.
If you want to learn more about other weather instruments and technologies, check out our other blogs HERE.